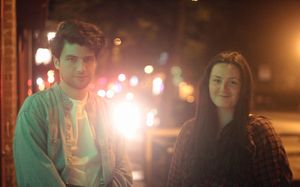 welcome
in response to 'little hinges' (2015) ☺
Play in Victoria calls Little Hinges "a refreshingly West-Coast-edgy recording" , while Bucketlist Music Reviews says Q & Quinn "blow the door off with Little Hinges" . Colin Irwin of Mojo Magazine praises Q & Quinn Bachand's "thrilling virtuosity"
TradConnect chose 'Little Hinges' as its album of the month, while FolkWords (UK) dubs 'Little Hinges' "an altogether enthralling soundscape'. 
Check out 'Little Hinges' , as well as the duo's two other full-length recordings under the music page ...
"

Q is "a gutsy fiery fiddle player" and Quinn is "nothing short of amazing" - The Living Tradition (UK)
"

Quinn's characterful clawhammer banjo and guitar and Q's fluid, flexible fiddle and mature and measured vocals ... The Bachand duo have hit on something fresh and vital here" - Michael Quinn
Currently we are living in Montreal , QC & Victoria , BC , respectively , & pursuing individual interests ! ☺